The Seven Sins of Sinso
First sin: Lack of return on investment
As a member of the Sinso community, I participated in the second stage of the SSC test network of Sinso and the third stage of the Amstar test network. The total token output of the 2000 nodes was about 2000, and the total income from staking 1300 nodes was about 6600. The IEO price given by XT Exchange is 1.6 USDT, which may seem attractive, but this is the income I earned over five months. When factoring in the price of mining equipment and electricity bills, my returns were negligible.
A mining machine has 10 nodes, and the 2000 nodes in the network account for only 20% of the computing power of the entire network. I invested nearly USD 200,000 to exchange for less than 10,000 Sinso tokens, resulting in an ROI of less than 10% based on the price of 1.6 USDT per token. Furthermore, there are approximately 20 million Sinso tokens in circulation throughout the network.
Second sin: Excessive liquidity after the launch
Only 20% of the total tokens are currently in circulation
As a Sinso project partner, I was contacted by a Venture Capitalist who was disappointed to learn that the lock-in period of his investment was nearly extended twofold upon getting listed on the exchange. The initial lock-in period was 1.5 years but has now been changed to 3 years. This investor was unhappy because the project experienced a significant price drop immediately after launch. I then investigated the circulation of the entire project and discovered that the primary market of the project is divided into Seed rounds, namely Private A, Private B, and IEO rounds, releasing only 12.3% of the circulation, with mining releasing nearly 8% of the circulation.
To cover this, it would require market management funds equivalent to 20 million tokens in value, but I doubt that miners and communities will be willing to invest under these circumstances.
Third sin: IEOs on the XT exchange have underperformed

                                                                            BIVE falling by 8 times
QIE falling by 13.5 times
All IEO projects on XT Starter have experienced a significant drop in value, with BIVE falling by 8 times and QIE falling by 13.5 times. This is a concerning trend.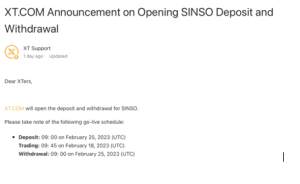 It is concerning that miners are unable to trade immediately after launch, while Venture Capitalists can launch early and potentially dump their investments. The lack of transparency around this issue is troubling.
 Fifth sin:Suddenly change the staked network for redemption in 90 days
The official instructions for staking were unclear, and investors were only informed that they could unlock their tokens after 90 days. This is concerning for the 531 nodes that have already staked their tokens. It raises questions about the project's transparency and motives.
Sixth sin: Misleading information about launch platforms
It is concerning that Sinso officials misled investors about the launch platform. As a miner, I joined the project because I was told it would launch on Coinlist, but now it is only launching on XT.
Seventh sin: Plagiarism of the BZZ code
There are allegations that Sinso plagiarized the BZZ code. If true, this could damage the project's reputation and legitimacy.
I have over 10 years of experience writing about cryptocurrency and blockchain technology. I have been published in major publications such as CoinDesk, Bitcoin Magazine, and Blockonomi. I am a regular speaker at crypto events and conferences.I am passionate about helping people understand this complex and rapidly-growing industry. My goal is to make complex concepts easy to understand for the average reader. I believe that blockchain technology will change the world as we know it, and I want to help people navigate this exciting new landscape.